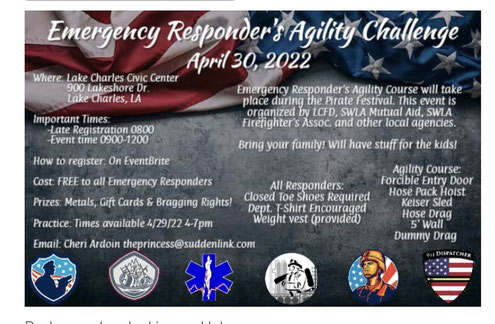 This is a fun free event to test the agility of Emergency Responders of all kinds through an obstacle of events. This event is organized by SW Louisiana Firefighter's Association to promote physical health in connection with mental health, promote Emergency Responders to the community and to build relationships between agencies.
Test yourself and compete against your co-workers and friends. Don't be afraid to try the course, it is free and there are no penalties for not finishing. There will be a time cap to prevent injury/illness.
Course will be set up as follows and will be run start to finish by each individual:
Forcible Entry Door
Hose Pack Hoist
Keiser Sled
Hose Drag
Dummy Drag
                                                                                                                                        Two competitors will race at a time. You may request who you want to race against or it will be assigned.
Practice: There will be practice times set up on Friday April 29, 2022 from 4-7 pm by texting Cheri Ardoin @ 337-884-6192.
Attire: All participants will wear company T-shirt if possible to represent their service, close toed shoes and a weight vest. Weight vest will be provided. Participants will wear gloves and helmets for safety - they will be provided. You may wear your own but they must be inspected before use.
Awards: Medals and gift cards will be given to:
1st, 2nd, 3rd place Individual firefighter - Male and Female Under 40 years old
1st, 2nd, 3rd place Individual firefighter - Male and Female Over 40 years old
1st, 2nd, 3rd place Individual police/military - Male and Female Under 40 years old
1st, 2nd, 3rd place Individual police/military - Male and Female Over 40 years old
1st, 2nd, 3rd place Individual EMS/other - Male and Female Under 40 years old
1st, 2nd, 3rd place Individual EMS/other - Male and Female Over 40 years old
1st, 2nd, 3rd place Relay - Male, Female and Co-Ed
To register for this event, CLICK Here